Tin Tức
What Is Slui.exe? Is It Safe? Here Is the Introduction for You
You are interested in
What Is Slui.exe? Is It Safe? Here Is the Introduction for You
right? So let's go together
natuts.com look forward to seeing this article right here!
What Is Slui.exe?
Have you noticed the file or process slui.exe while using your Windows PC? Do you know what is it? Let's get the brief introduction in the following contents.
There is a command line program, the Software Licensing User Interface, in Microsoft Windows operating system. The program is responsible for activating and updating the Windows operating system, and slui.exe is the executable file that used to open up the activation screen and offer some options to update the operating system with a product key.
Some detailed information about the slui.exe is listed below. Please note that the developers are keeping updating the software, and the parameters might be different in the slui.exe with different versions.
Original filename: slui.exe
File description: Windows Activation Client
Type: Application
File version: 10.0.18362.693
Product name: Microsoft® Windows® Operating System
Product version: 10.0.18362.693
Copyright: © Microsoft Corporation. All rights reserved.
Size: 450KB
You can right-click your slui.exe file, select Properties, and switch to Details tab to check its detailed information.
Is Slui.exe Safe?
You might wonder if the slui.exe is safe or worry that if the file is a threat to your PC.
As mentioned, the genuine slui.exe is an executable file that is included in Windows operating system developed by Microsoft Corporation. You don't need to worry about this file, as it is an essential component for Windows and it is safe. You should not remove it. Otherwise, you might encounter problems while running some applications and even the BSOD error.
However, it doesn't mean every file looks like a slui.exe is safe on different computers. Some viruses and malware might disguise itself as slui.exe and it would put your computer in danger.
The genuine slui.exe for Windows is located in the C:WindowsSystem32 folder. If you find the file in another location, you need to run a virus or malware scan with a reliable and professional antivirus application. Please note that not all tools can detect every type of virus and malware, and you might need to try more than one options to check for threats.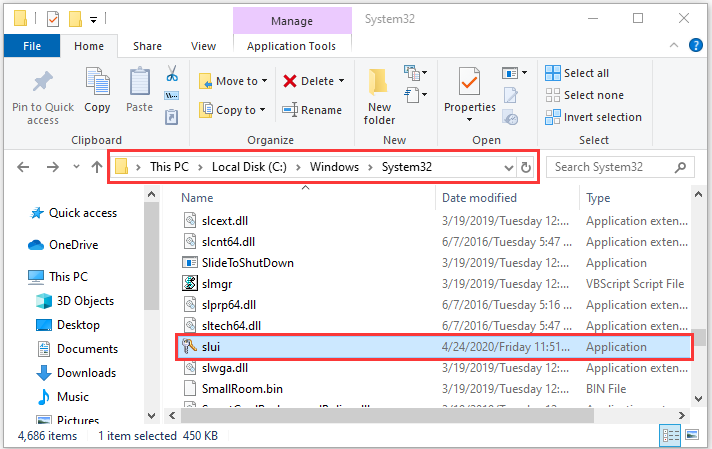 Further Reading: Slui.exe Errors
Here are some common error message related to slui.exe which might appear on your Windows PC:
Sliu.exe has encountered a problem and needs to close. We are sorry for the inconvenience.
Sliu.exe is not a valid Win32 application.
Cannot find slui.exe.
…
Most of them might happen while installing or running a program or during the startup or shutdown of Windows operating system. If you encounter one of these errors unfortunately, you can try the following solutions to fix it:
Scan for virus or malware.
Clean your hard disk with Disk Cleanup
Run SFC
Run DISM.exe /Online /Cleanup-image /Restorehealth command in Command Prompt.
Perform a system restore.
Reinstall Windows operating system.
The solutions should be different for different cases, and you should focus on the description of your own error message. Please not that it is not recommended to download a slui.exe file from any download sites, as you will there are risks of being attacked by virus or malware.
Conclusion: So above is the What Is Slui.exe? Is It Safe? Here Is the Introduction for You article. Hopefully with this article you can help you in life, always follow and read our good articles on the website: natuts.com