Tin Tức
25 Beautiful Travel Photos From Around The WorldPhotos from 7 Years of Traveling And The Interesting Stories Behind Them
You are interested in
25 Beautiful Travel Photos From Around The WorldPhotos from 7 Years of Traveling And The Interesting Stories Behind Them
right? So let's go together
natuts.com look forward to seeing this article right here!
1. Water is Life
It wasn't my first time in Bali when I took this shot. I have been to Bali at least three times now, and every time, I always have something to complain about. The crowds, the traffic, the aggressive scammers—I can go on and on about what I do not like in Bali. However, there's one thing that I can't deny, and that is its unique culture.
Bali is the only island in all Indonesia that is predominantly Hindu, and everything reflects that uniqueness, from its culture to its architectural style. Despite my perception of this tourist-ridden island, I have always adored their culture, especially the way their temples are constructed.
One of these temples is the Tirta Empul, a water temple complex built in the mid-10th century for pilgrims and devotees to come and purify themselves. The last time I was at this temple, it was so crowded that I didn't even get to see the sacred pool where one goes to purify themselves.
2 years later, I went there again expecting the same experience, but to my surprise, the crowds had already dispersed when I arrived, and I was able to capture these intimate moments of both tourists and locals participating in the purification ritual.
What I like most about this photo is just how intimate it is. It shows three types of people from all walks of life coming together to participate in this 1,000-year-old ritual.
None of them were doing it for selfies, and believe me, there were way too many of these selfie tourists out of the frame. These three, on the other hand, show genuineness and respect for the ancient ritual and culture of Bali, and I was lucky enough to be at the right place and the right time to capture this moment.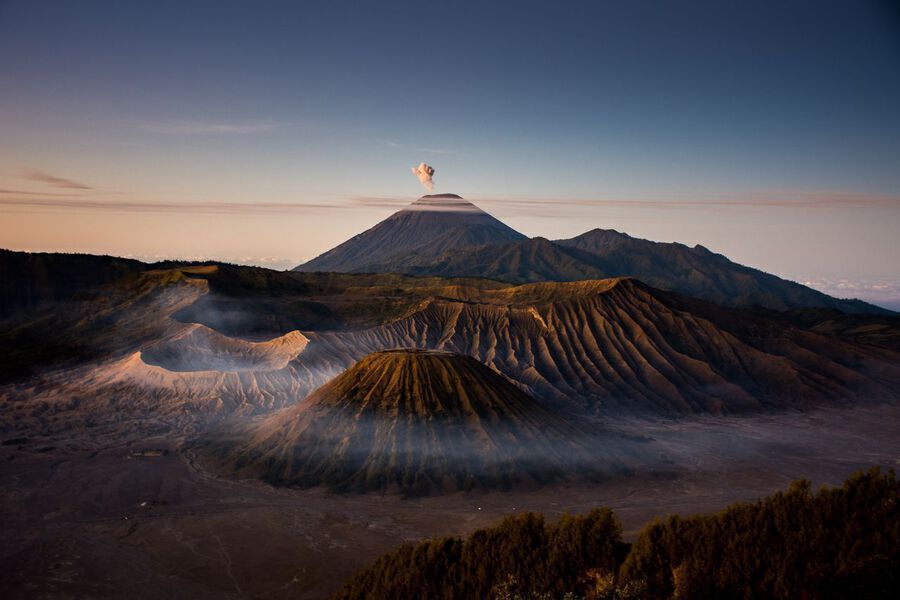 Looking for a complete travel guide to Indonesia? Check out:One Month Backpacking Itinerary for Indonesia
2. The Water Cycle and the Life Cycle Are One
Another one of my favorite photos was also taken at the Holy Springs of Tirta Empul in Bali. In this photo, I was able to capture the moment when the father passed his daughter to the mother to console her as she cried her heart out due to the water.
The framing of the photo, the smiles on the parents' faces, and the settings of the sacred bath captured a rare moment of travel where all the pieces just fell into place at the right time without me having to direct it. It is a truly candid moment of locals participating in their own ritual, which is something I wish I could capture more in my travels.
3. The Banana King
Backpacking in Pakistan is probably one of the most memorable trips I have done in recent years. I have heard many great stories about the country and its remote northern part where the famous Karakoram Highway runs through. So, in late 2018, I decided to hop on a plane, fly to Lahore, Pakistan, and spend a month exploring the country.
Prior to arriving, I had heard about how friendly the people in Pakistan are, and on my first day in the country, my experience meeting the "Banana King" confirmed that fact.
Just to be clear, "Banana King" was not his real name 🤣; it's just a name I gave him as he and his friends convinced me to take a photo of him with all the bananas piled upon his head. His friends were definitely having a blast stacking up all the bananas on his body, even more so than the "Banana King" himself, but he seems to really enjoy posing for the photo.
It was one of the many random and genuine experiences I had with the friendly Pakistani people. Throughout the day, as I explored the old city of Lahore, I was asked by many locals to photograph them, but for some reason, this photo of the "Banana King" somehow stood out from the rest. I wonder how he is doing right now.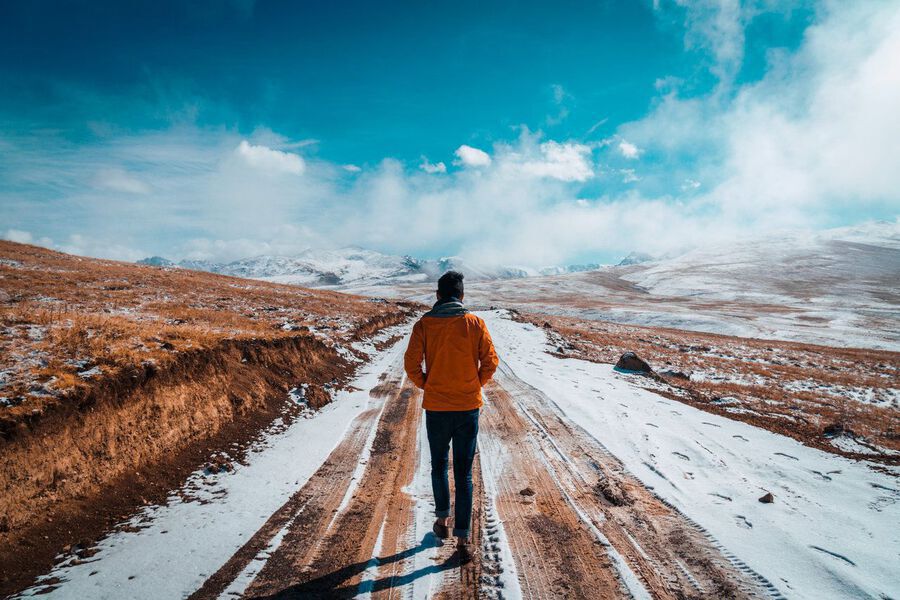 Looking for a complete travel guide to Pakistan? Check out:One Month Backpacking Itinerary for Pakistan
4. Finding Inner Peace In the Quran
Iran is another country that I really enjoyed traveling in. The Iranians are probably the friendliest people I have ever had a chance to interact with. Backpacking through the country, which is so misunderstood, and seeing the country and its people for who they really are, not for the country's political opinion, was one of the most eye-opening experiences ever.
I spent around 2 weeks backpacking through Iran, starting my journey in the capital city of Tehran, traversing south to Shiraz, and then backtracking my way up again through Yazd, Isfahan, and Kashan.
This photo was taken in the famous Nasir-ol-Molk Mosque in Shiraz, which is well-known for its colorful mosaic windows. Many travelers from all over the world, as well as locals, travel to this mosque to witness the colorful light play that happens when the sun shines directly on the mosaic window in the early morning.
As tourists captured the play of light, I happened to come across an Iranian woman with a Quran on her lap sitting in the mosque, and without hesitation, I decided to go around the back wall of the mosque as stealthily as I could and captured this moment you see here.
This is probably one of my favorite photos of all time. The colors, the settings, and the woman with her Quran were all in the right place and at the right time for a split second, allowing me to capture such a peaceful and intimate moment.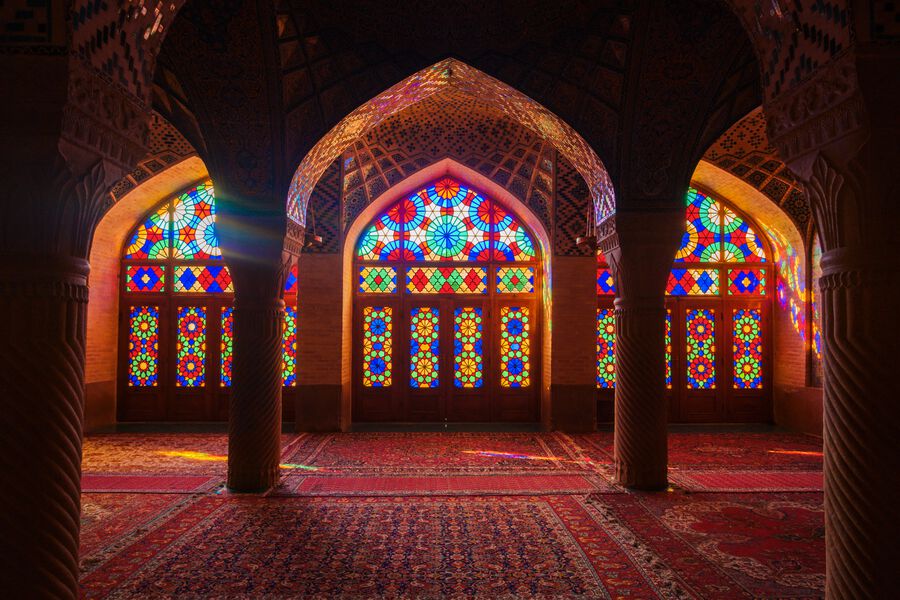 Looking for a complete travel guide to Iran? Check out:2 Weeks Backpacking Itinerary for Iran
5. Symmetry are Order, Beauty, and Perfection
I have an obsession, almost on the brink of being unhealthy, for Islamic art and its perfect symmetrical patterns. One of the great joys of my life as a traveler is to explore the Middle East, discovering these beautiful patterns on the exteriors and interiors of mosques, and staring at them in wonder.
Uzbekistan is one of those countries that I thoroughly enjoyed traveling in. The country is full of beautiful ancient Islamic architecture from the Silk Road era, from the massive complex of Registan in Samarkand to the ancient walled city of Khiva.
This area in Central Asia used to be the seat of power of the Timurid Empire under its first ruler, Tamerlane, which was one of the most powerful empires in ancient times. Hence, you will see plenty of beautiful historical buildings throughout Uzbekistan.
This photo was taken in one of the mausoleums in the Shah-i-Zinda Ensemble in Samarkand. The perfectly symmetrical and fine detail of the patterns on the ceiling of this mausoleum are great examples of how beautiful Islamic art is and why I will never get tired of seeing them.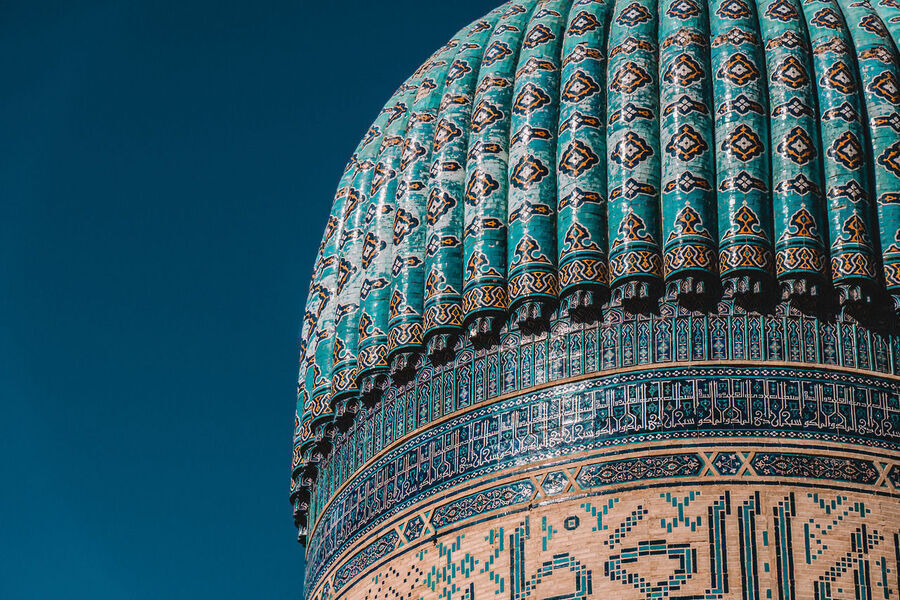 Looking for a complete travel guide to Uzbekistan? Check out:2 Weeks Backpacking Itinerary for Uzbekistan
6. "I'm Sorry"
It was my first day in Kyiv, Ukraine, and as I went out to explore the city, I entered St. Volodymyr's Cathedral and saw this man with his wife wandering around the hall.
As his wife wandered off, he stopped at these round metallic votive candle holders, which are quite common in Eastern Orthodox Churches. I watched him as he slowly took his hat off and stared at the lit candles for a good 2 minutes.
It was almost as if there were regrets in his eyes when I captured this moment. What I love about this photo is the incidentally perfect lighting, the composition, and the man's interesting stance, making this photo one of my favorites of all time.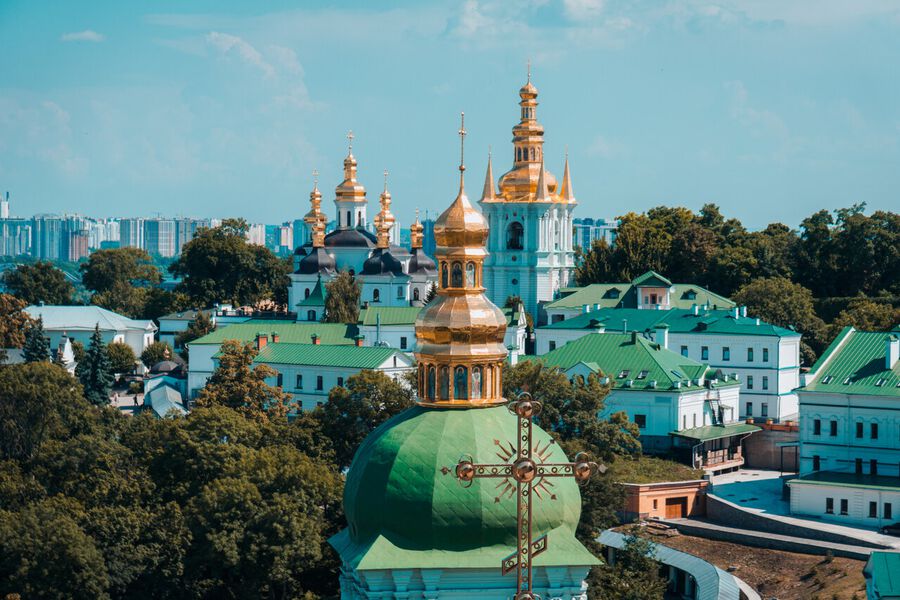 Looking for a complete travel guide to Kyiv, Ukraine? Check out:Top 18 Things To Do In Kyiv
7. Every cloud has a silver lining
I remember when I was stuck in the Albanian Alps due to heavy rains, which prevented me from continuing my hike through the famous Theth-Valbona Pass. I ended up having one hell of a time with other stranded hikers.
We all did our best to make this unfortunate downtime fun as we waited for the storm to subside, and as the saying goes, there will always be clear skies after every pouring rain.
Even though all of us had different plans before the storm came, we ended up adjusting our plans together, hiking across the pass as one big group, and spending the evening together in Valbona.
"Every cloud has a silver lining" and because of the rain, we all ended up meeting and had an absolute blast together. This photo was captured on the day the sky cleared up, right before we all started hiking together. The church, the beautiful mountain, and the blue sky behind it in this photo always remind me that no matter how bad the situation gets, you can always draw some good from it.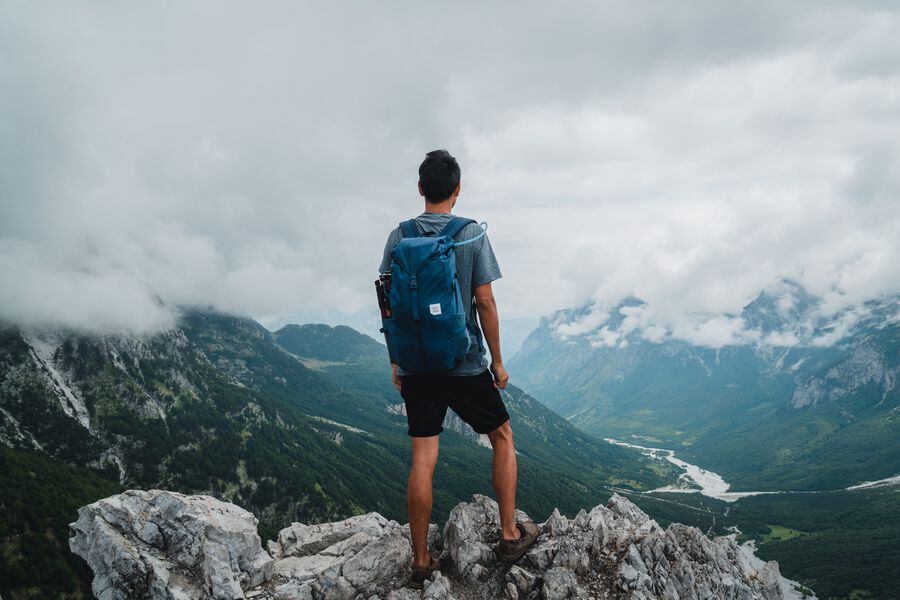 Looking for a complete hiking guide to the Albanian Alps? Check out:A Complete Hiking Guide To The Albanian Alps
8. We, Backpackers, Go Where No Cars Go
During the hike across the Theth-Valbona Pass in Albania, Ingrid and I met Verena and Kobi, German and Israeli hikers respectively, who were tackling the Peaks of the Balkans Trail. This trail is known as the world's great transnational hiking trail, spanning 192 km across the mountain region of three countries from Kosovo to Montenegro to Albania.
Tackling this trail is already a feat in itself, and I was lucky enough to stumble upon them while they were hiking the Albanian part of the trail. This photo was taken right after we met at a small café in the middle of the mountain along the Theth-Valbona stretch.
It was a perfect moment when I captured this photo, as three of them were tramping through bushes along the Theth-Valbona trail while we made our way down to the riverbed. It was a slippery slope, and they were all being extremely careful, keeping space between themselves, which allowed me to capture this photo.
What I like about this photo is the fact that it shows just how rough and tumble we like to put ourselves through, and we backpackers enjoyed every single moment of it — from the discomfort to the occasional fall, which Verena did a few moments later after I took this shot 😆.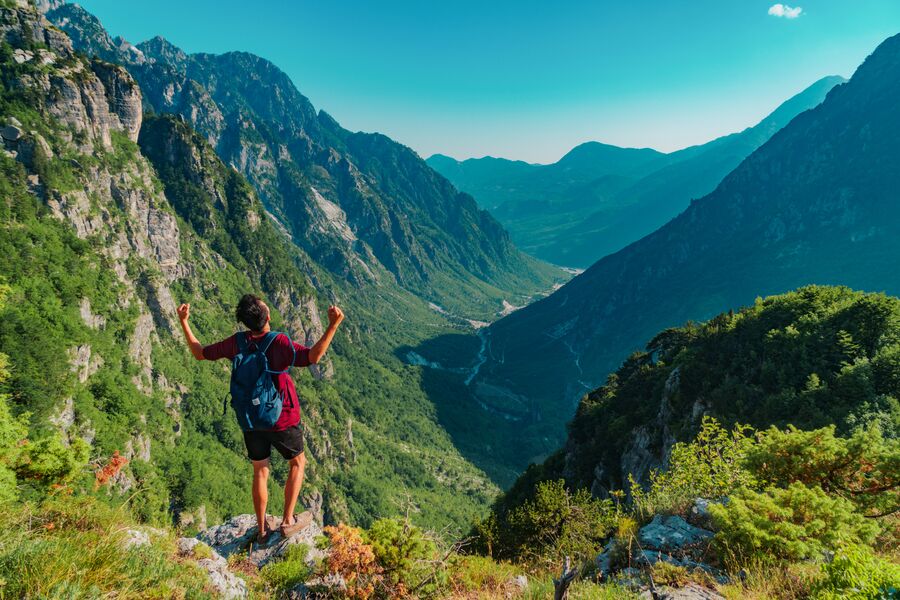 Looking for a complete travel guide to Albania? Check out:2 Weeks Itinerary For Albania
9. The Xhiro Hour
One of the most fascinating things I witnessed in Albania is the concept of Xhiro Hour, an Albanian tradition where, as the sun goes down, the locals would come out in droves to a boulevard and start socializing with their friends while continuing to stroll up and down the streets until late at night.
This photo was taken at around 8 PM, the height of Xhir Hour, at the Bulevardi Republika boulevard in Berat, Albania. It happened so consistently and predictably that I started noticing it before my local friend told me what it was. It was certainly quite a sight to behold.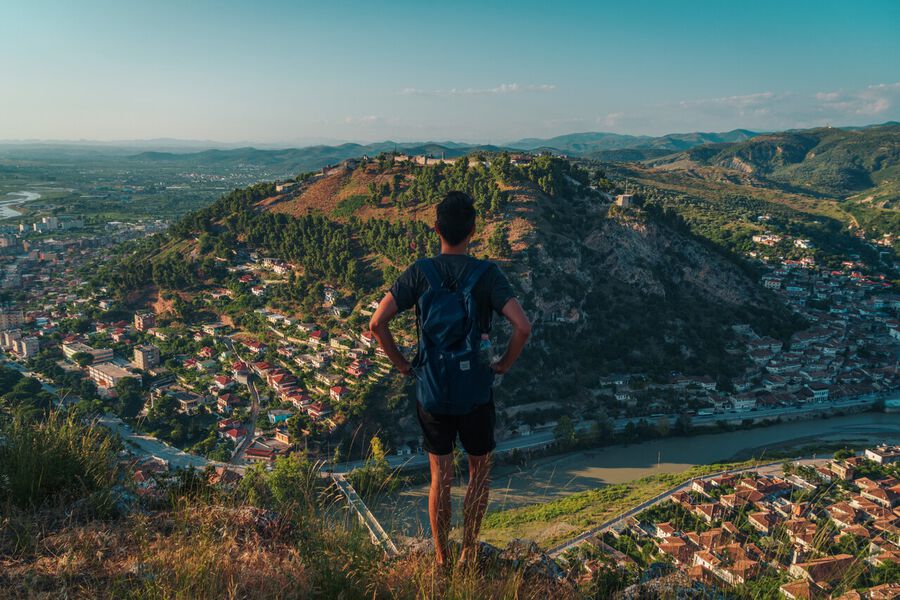 Looking for a complete travel guide to Berat? Check out:Top 8 Things To Do In Berat, Albania
10. The New Normal
After 2 months of self-quarantine, I was pretty stoked to be able to get out of my house again in June and go about my day as I used to, as Thailand reported 0 new local cases for more than 30 days.
Something that I had always wondered about Bangkok was what tourist attractions would look like without tourists. After the COVID-19 lockdown, I decided to answer that question once and for all, so I went out and visited these tourist attractions as they started to reopen, and what I found was pretty shocking.
Empty Grand Palace, deserted Wat Pho, and quiet Chatuchak Market were sights I never thought I would see in my life. Tourism in Thailand really took a big hit after COVID-19, but what seems to have had very little effect was the need for Thai people to enjoy street food.
After seeing empty tourist attractions, I was expecting the same in Yaowarat, Bangkok's famous Chinatown area. However, what I saw was completely different. A ton of people were out and about, eating all kinds of street food from eager vendors, just like it used to be before COVID-19, with zero social distancing.
Thankfully, 99% of the people were wearing masks, including these two ladies in the photo who were waiting to be seated at a crowded street food stall. I captured this candid moment as the two ladies, all masked up, were discussing something before one of the ladies looked straight into the camera, which is something I always prefer as it gives the photo a more intimate relationship between the audience and the subject.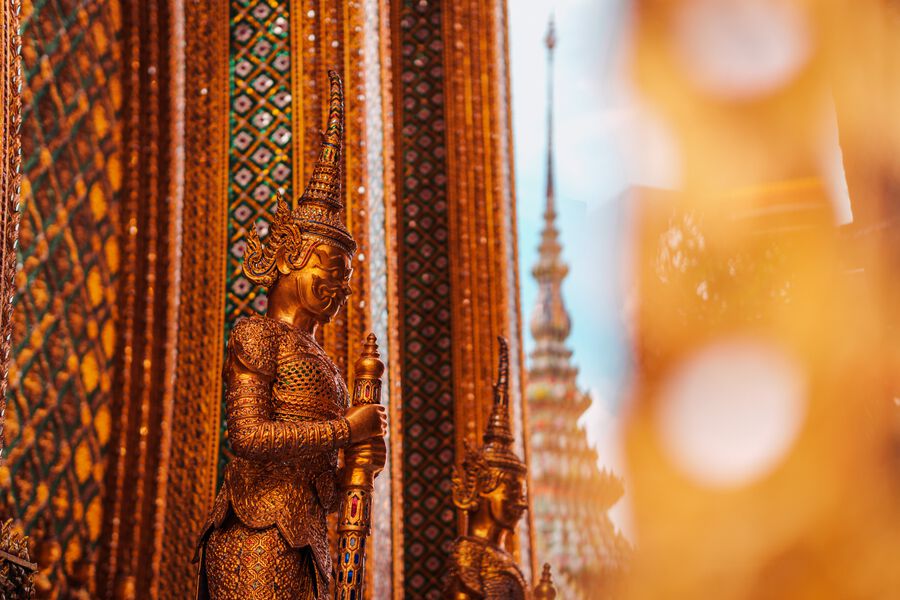 Wonder what Bangkok's Tourist Attractions look like after COVID-19? Check out:This is What Bangkok Tourist Attractions Look Like After COVID-19
11. Play is Universal
One of the best things my friends, Rob and Emma, brought on an 8-day impromptu road trip of a lifetime along the famous Pamir Highway in Tajikistan is the Frisbee.
If you have ever gone on a multi-day road trip, you would know that you will have plenty of downtime during the trip. We had plenty of that as we often stopped on mountain passes for photos, small stretching and hiking sessions, and spent the night in remote villages in the Pamir region.
One of the most memorable moments on that trip, which was captured right here, is when we were traveling the Wakhan Valley that runs along the border between Tajikistan and Afghanistan. We stopped at Langar for our fifth night on the Pamir Highway, and in the evening, we decided to stroll around the village and met a bunch of kids who took an interest in the Frisbee we had with us.
We spent hours and hours playing with them, teaching them how to throw, and this photo was captured the moment my friend Emma passed the Frisbee to a group of very excited kids.
Us and the kids were enjoying ourselves so much that we both lost track of time, and the parents had to come out and tell the kids to come back home for dinner. After years passed, the fond memory of that interaction in the little village of Langar in the Wakhan Valley is still pretty vivid in my mind.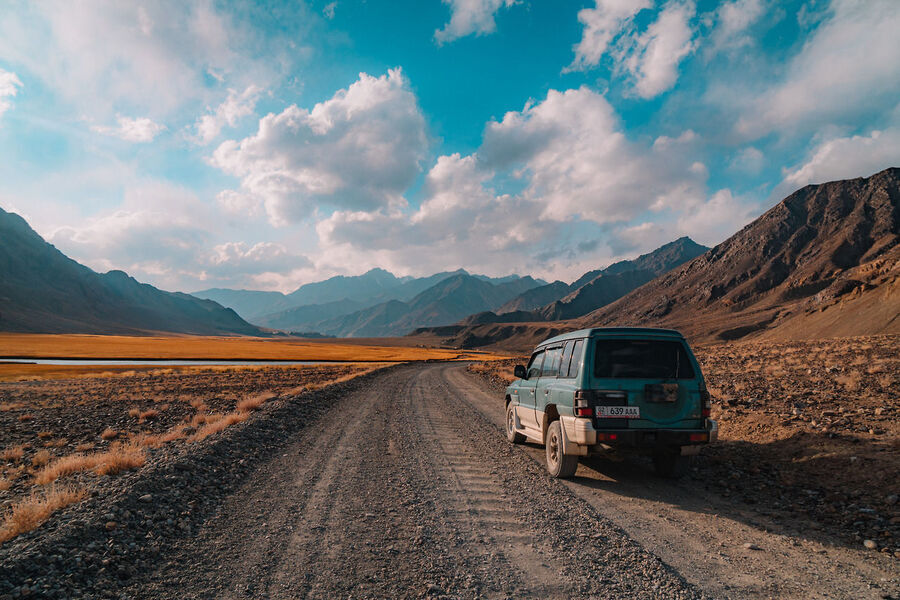 Looking for a complete travel guide to the Pamir Highway? Check out:8 Days Pamir Highway Itinerary
12. Navigating Through Life
It was almost sunset when I arrived at Bahla Fortress in Oman, as I was exploring the northern part of the country by car. The October sun was shining brightly on the massive, earth-toned colored fortress.
Since October is considered the low season in Oman due to the scorching heat, the Fortress was almost deserted when I arrived. I spent about an hour there, having the whole place to myself. As I climbed up to the top, I spotted a blind man trying to navigate the fortress.
I like everything about this photo: the clay-like houses, earth-tone colors, the extreme cleanliness, which is something I've come to expect in Oman. The sunset casting shadows and a blind man slowly making his way around the fortress with an audio guide just captured the essence of Oman and how they take care of their citizens.
Almost all of their tourist attractions are handicapped-friendly, with ramps installed all over, audio guides, and personnel to help if needed. Oman is not the cheapest country to travel to in the Middle East, but knowing that the money you are paying goes straight towards improving accessibility and maintaining the attractions makes it all worthwhile.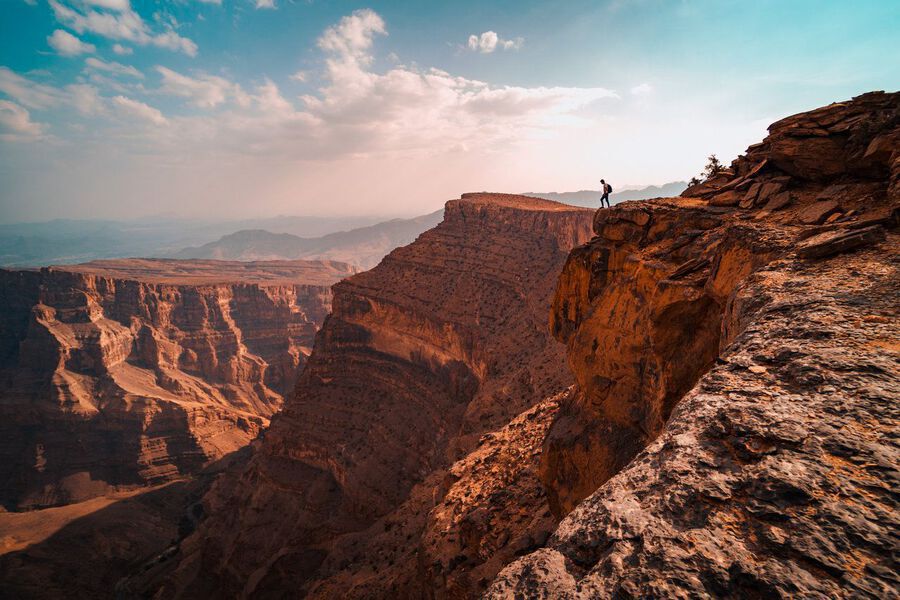 Looking for a complete travel guide to Oman? Check out:The Ultimate Backpacking Guide To Oman
13. One of the Same
Sometimes, you just want to forget everything, lay down on the beach, and live your life care-free like the animals on the Galapagos Islands. This is exactly what I felt during COVID-19, and seeing this photo of me lying down with a seal at the Galapagos Island reminded me so much of the good old days when one could travel anywhere we wanted freely without having to worry about the pandemic.
I remember quite vividly the moment I decided to set up a tripod and go lie down with the animals at this Black Beach. It was during a 6-day cruise trip I was on that went around the archipelago, exploring the remote areas of Isla Isabela.
I remember seeing more wildlife during this 6-day period than I'd seen in my entire life, and due to the fact that the island is so remote and the lack of predators, the animals living here didn't startle one bit, no matter how close you get to them.
I thought it would be a funny photo of me trying to blend in with the animals, but the photo turned out to be more than that. For me, the photo is now an anchor to the carefree time before COVID-19, and looking at it makes me feel both happy and longing for the good old days.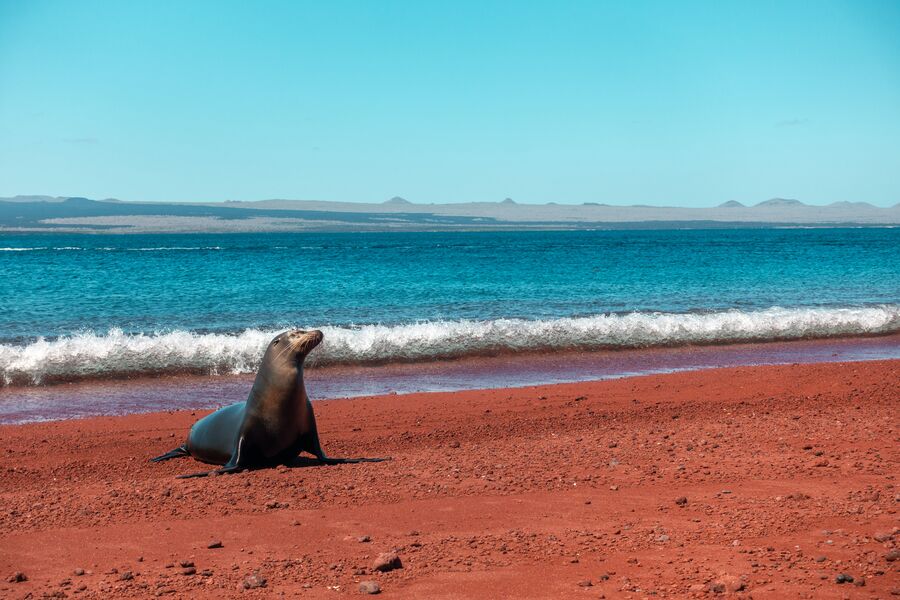 Looking for a complete travel guide to the Galapagos? Check out:Here is The Cheapest Way To Travel To Galapagos
14. The Chieftain
Another one of my favorite photos was also taken in Ecuador. It was my first foray into the Amazon Rainforest as I went on an Amazon tour in the Ecuadorian Amazon Forest where we got to see an Anaconda eating a bird, participated in traditional rituals, and met this man, a chieftain of the Amazon village we were visiting.
I asked him for a photo after the welcoming ritual he performed on us. He was dressed in full attire, with colorful feathers on his hat, multiple necklaces around his neck, and his face painted with lines of red; an attire worthy of a chieftain.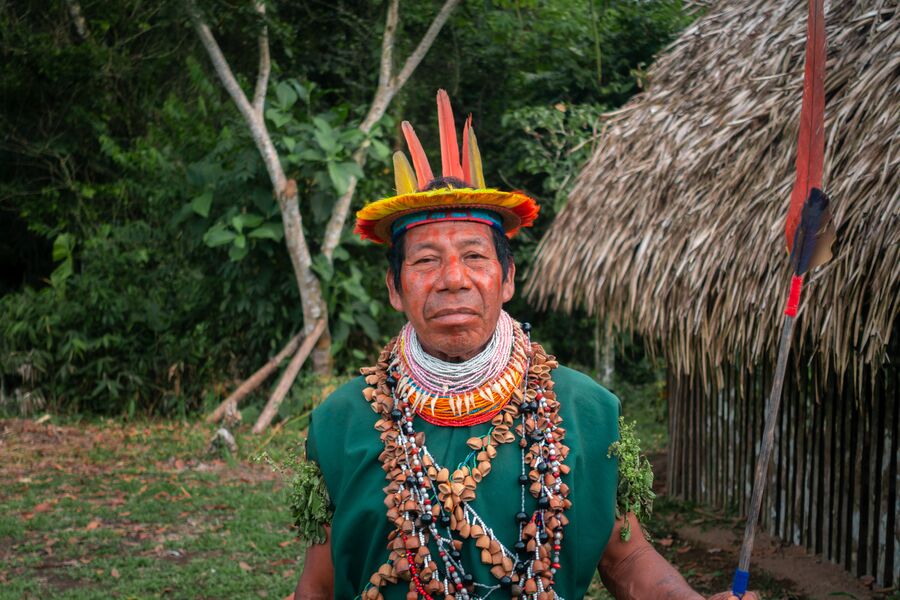 Looking for a complete travel guide to Ecuador? Check out:One Month Backpacking Itinerary for Ecuador
15. Art in Motion
If you have been watching my travel videos, you would know that one of the greatest joys of my life is witnessing different traditional dances and music while I am traveling. I believe that the entertainment that locals enjoy says a lot about their identity and origin. So, when I had the chance to see a traditional dance show in Kandy, Sri Lanka, I took it without hesitation.
The fast-pounding drums, the extremely lively and aggressive movement of the dancers, and their play with fire captivated me throughout the show. This photo was taken the moment the two dancers were about to synchronously somersault, which captured what I called the moment of "Art in Motion" very well.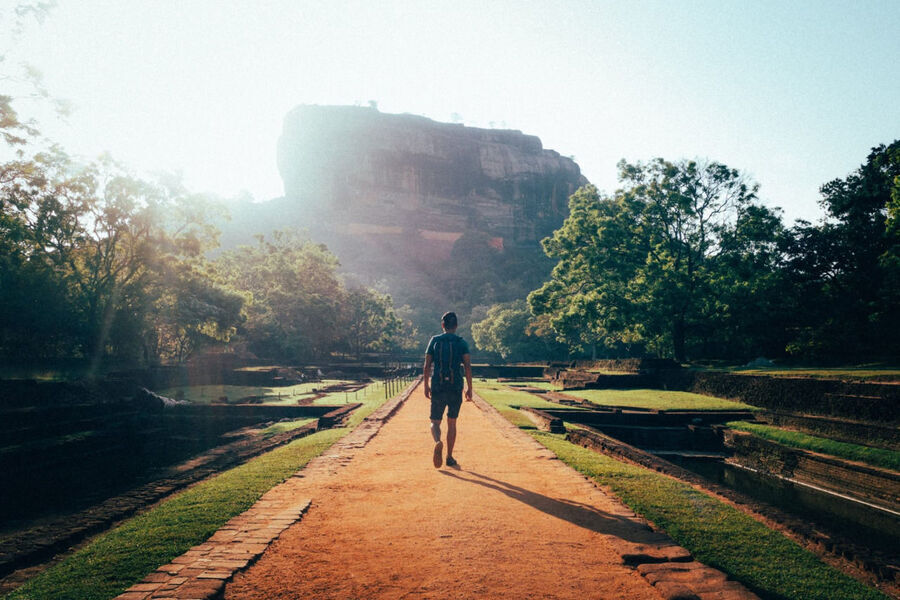 Looking for a complete travel guide to Sri Lanka? Check out:2 Weeks Backpacking Itinerary for Sri Lanka
16. Mountain Men
Hiking is one of my favorite activities to do while traveling. It keeps my body in shape, allows me to see the backcountry that not many get to see, and the views are more often than not worth the climb.
When I was in France, I decided to visit Chamonix, a mountain town stranded in the middle of the French Alps with Mont Blanc mountain towering over the entire town. I had heard before from my friend in Lyon that the hiking trails around Chamonix are phenomenal, so I decided to go on a long hike combining the Grand Balcon Sud trail with the Lac Blanc trail, creating a whopping 12-hour long hike.
Since it was early October, the cable cars around Chamonix were no longer in operation, so I had the whole trail to myself. Being surrounded by untouched nature and snowy mountains was one of the most rewarding things I did on that trip.
As I arrived at Lac Blanc, the location where the photo was taken, I saw two hikers coming down from the other side of the lake. Even though I could barely see their faces, we instinctively waved at each other as if we had known each other for the longest time.
This happens a lot in remote mountains, as people are often glad to see another human being doing the same thing they do, which is one of the reasons why I enjoy hiking. The people you meet in the mountains are the best!
I quickly took this photo right before I made my way down, missed the last train, and had to walk 2.5 hours back along unlit mountain roads to Chamonix, but it was all worth it.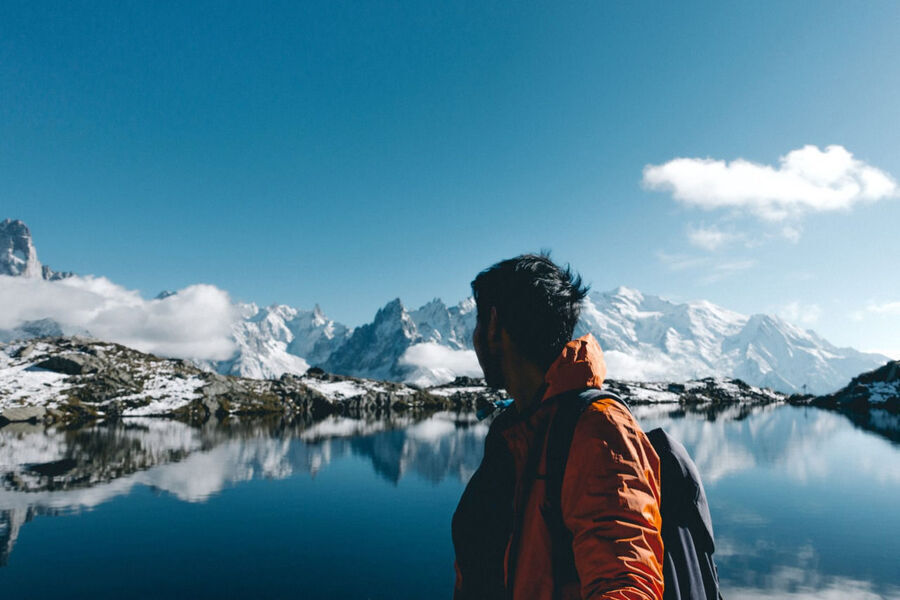 Looking for a complete hiking guide to the French Alps? Check out:The Ultimate Day Hiking Guide In The French Alps
17. Curiosity
I like to start hiking early in the morning because more often than not, the weather is usually calmer, and I would also have a head start before everyone else, allowing me to arrive at the top before the crowds.
It was also the case here in this photo when I started hiking the Grand Balcon Sud in Chamonix at 6 AM, when the light was just perfect. As I slowly made my way up the mountain, I was shaken by the sudden sound of movement, and when I looked up, I saw this curious chamois staring right back at me.
We stared at each other for a good one minute before the chamois ran into the forest. It was a beautiful moment, and I was lucky enough to be able to capture it with my camera in time. This photo is a reminder of how precious wildlife is and why hiking will forever be my favorite thing to do while traveling.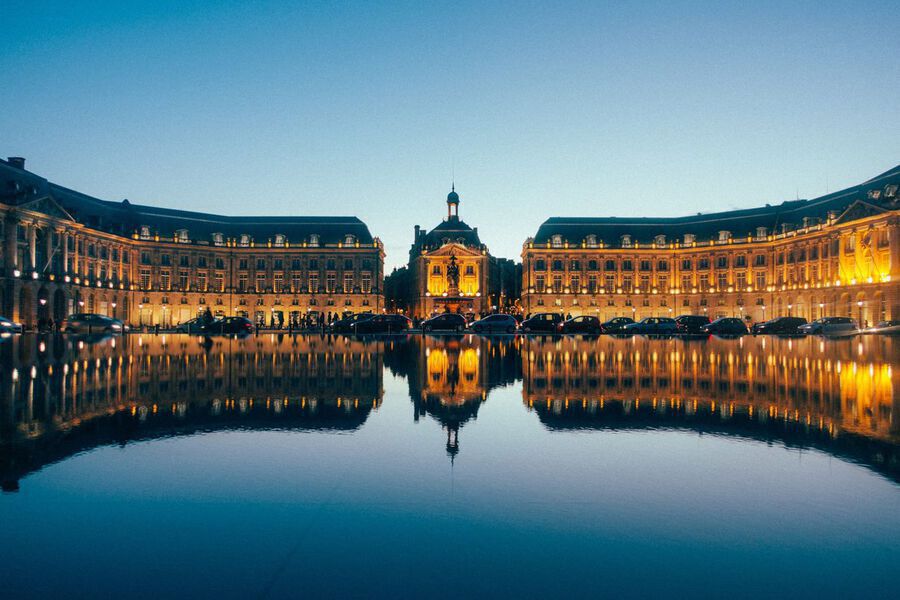 Looking for a complete travel guide to France? Check out:2 Weeks Backpacking Itinerary for Indonesia
18. Determination
When I first saw the photo of a person sitting on a ledge overlooking a canyon while I was researching for places to go in Turkmenistan, I knew right away that I had to be there.
Turkmenistan is one of the most isolated countries in the world, up there with North Korea. To get in, you will have to go through a lot of processes, from finding an established tour company to go with, to going through the often random and unpredictable visa process.
I was determined to see this place with my own eyes, so I decided to apply for a Turkmenistan visa through a local travel agency. A week before my departure date, my visa was rejected for no reason. I was shocked, but my determination was overwhelming, so I asked the travel agency to apply again immediately.
One day before my departure date, as I thought all hope was lost, I received an email saying that my Turkmenistan visa had been approved. I entered Turkmenistan with my guide, who drove me to this canyon, set up a camp, and I slept in a tent under the stars right by that same ledge. With enough determination, anything is possible.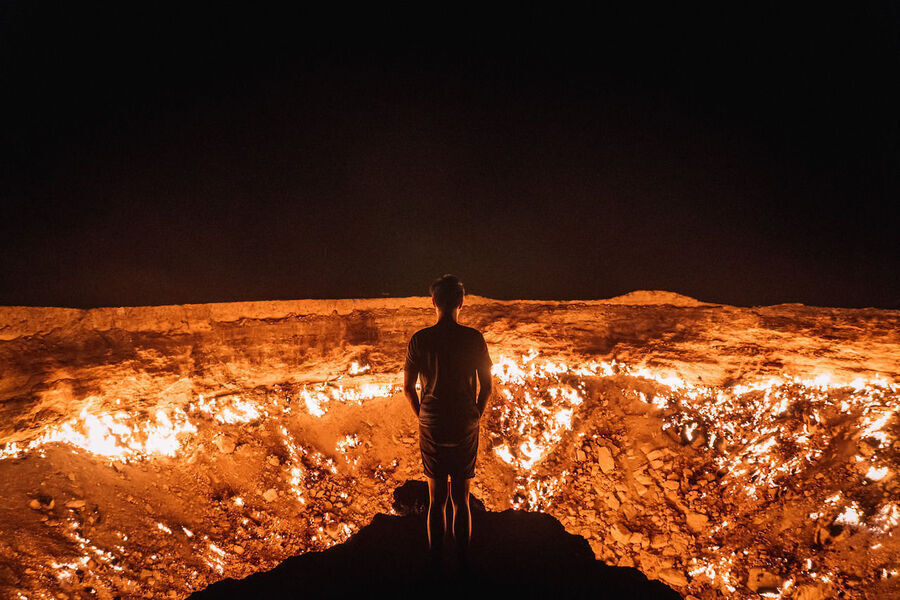 Looking for a complete travel guide to Turkmenistan? Check out:One Week Backpacking Itinerary for Turkmenistan
19. Shangri-La
With this photo as proof, I think I may have found the Shangri-La James Hilton talked about in his book, "The Lost Horizon". This is the Baltit Fort, standing at the top of a hill in Karimabad, a town in Gilgit-Baltistan in the untouched Northern Pakistan region where the Karakoram Highway runs through.
To this day, backpacking through Pakistan is still one of the best trips I have ever done. The country has everything: the culture, the history, the mountains, and the scenery that is straight out of a fairy tale, like this one I saw in Karimabad.
As far as landscape photography goes, the way the valley is centered at the Fortress, how the snowy peak towers over the town, and the autumn leaves of the trees surrounding Karimabad, this is one of my favorite photos out there.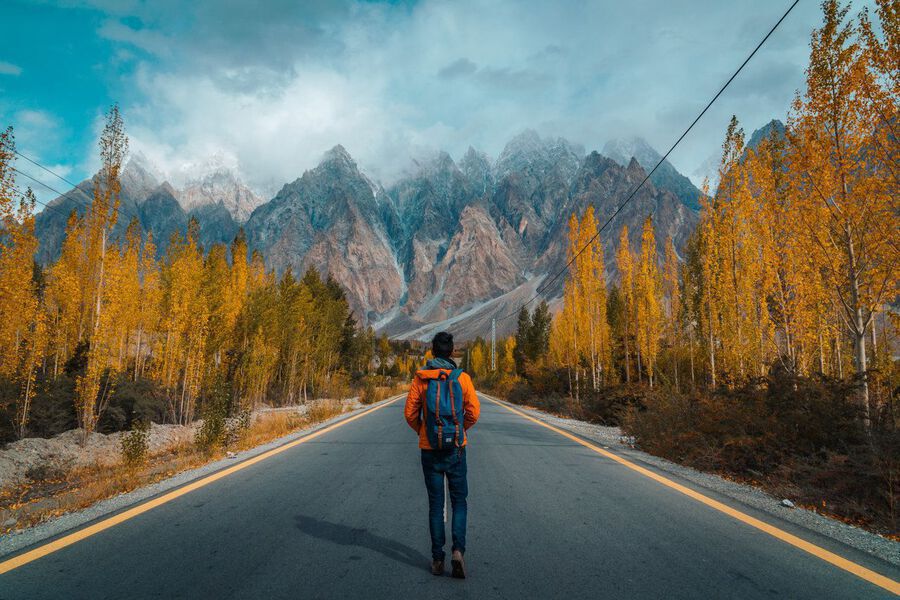 Looking for a complete travel guide to Karakoram Highway? Check out:The Ultimate Guide To Traveling The Karakoram Highway
20. Never Everest
It was my 30th birthday, and what better way to celebrate the big 3-0 than with a 15-day hike in the Himalayas, solo in solitude! It has always been a tradition for me to celebrate my birthday abroad by doing something crazy. For my 26th birthday, I skydived in New Zealand. In 2016, I went on a 4-day hike alone in the Peruvian Andes for my birthday, and the same goes for 2018 with a hike to Everest Base Camp.
This photo captured the moment after I had conquered the Everest Base Camp and summited Kala Parthar mountain, the highest point I have ever been in my life, where I stood at 5,643m above sea level. It was an accomplishment of which I am extremely proud, and it serves as proof that even in my 30s, my body is still more than capable.
The journey didn't end there, though, as there were around 5 days' worth of hiking left beyond this point. However, the euphoria I got from arriving at the Everest Base Camp the day before still ran high, and I decided to rest here and enjoy the view a bit before I took this photo. You just can't go wrong with hiking in the Himalayas.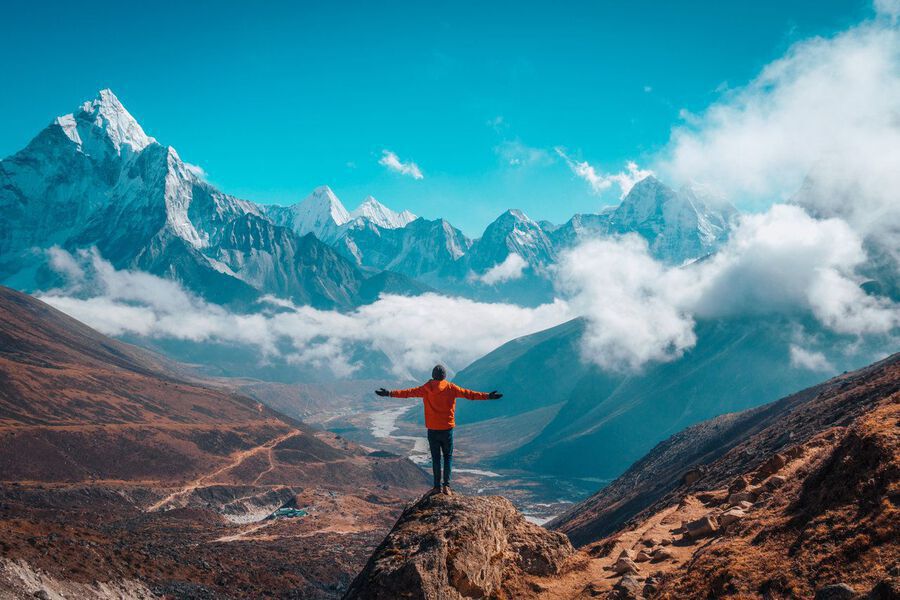 Looking for a complete hiking guide to the Everest Base Camp? Check out:A Complete Guide To Trekking Everest Base Camp Independently
21. The Explorer
This is a photo of my friend, Aurelie, whom I met in Australia back in 2014, and we have continued to stay in contact until this day. This was the second day after we met, and we became quite comfortable around each other as there were not a whole lot of other travelers out there in the desert of Central Australia.
We were hiking the Kings Canyon when I turned back and took this photo of her. The way she wore her hat, the camera she was holding, and the look in her eyes just embodied the spirit of an avid explorer to me, and that is why I called this photo "The Explorer".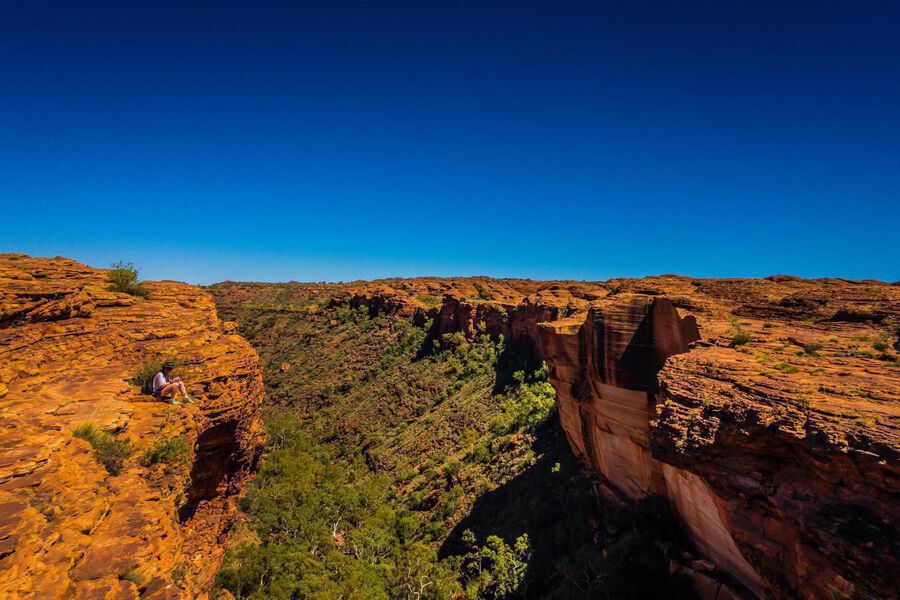 Looking for a complete hiking guide to Kings Canyon, Australia? Check out:A Hiking Guide To The Kings Canyon
22. The Land of Thousand Pagodas
Sunrise in Bagan is, hands down, the most beautiful sunrise I have ever witnessed in my life, and I have witnessed a lot throughout my travels. I have been to Bagan twice, and both times, I woke up at 4 AM, took out my bike, and witnessed the sunrise every single time.
There is something about the ancient kingdom of Pagan and all the 2,000 abandoned pagodas lying around the desert-like plain of Bagan that piqued my curiosity.
The mythical quality of these ruins is intensified even more at dawn when the darkness of the night subsides and the sky is filled with silhouettes of hot air balloons floating around, and the ground is covered in long-casting shadows of these pagodas. That is the moment I captured this photo.
We climbed up the extremely crowded Sunrise Pagoda at 5 AM and waited for the sun to rise above the horizon, and we stayed even longer after the crowds all left to have the whole place to ourselves. There is no other place quite like Bagan, and if you have a chance to witness the sunrise here, do it without hesitation.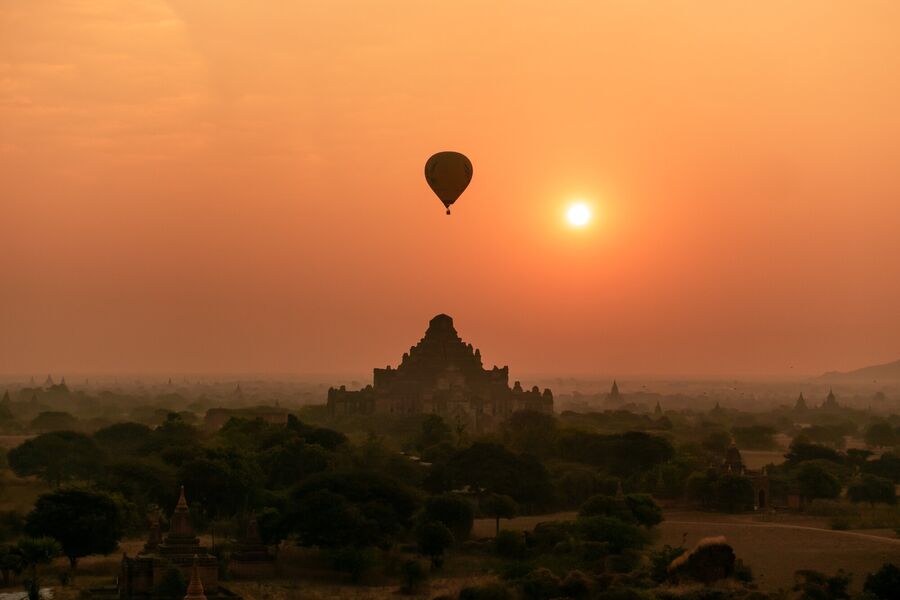 Looking for a complete travel guide to Bagan, Myanmar? Check out:The Ultimate Travel Guide To Bagan Temples
23. Long-Tail Thailand
I was born and raised in Thailand, so I might be a little biased here, but there is something about a longtail boat and the Khao Sok National Park that makes me fall in love with this photo.
For one, Khao Sok National Park is hands down my favorite place in all of Thailand. The experience of sleeping in a floating bungalow under the stars without internet access, kayaking around a body of water all day, and spotting wildlife animals as a pastime activity—it's the simplicity of living life like this that makes me fall in love with Khao Sok National Park.
I think this photo captured the essence of Khao Sok National Park very well with the simplicity that comes with traveling on a longtail boat, the calmness of the water, and the mysteriously-looking forest and mountain on the horizon. If I have to pick one photo to represent Thailand, I would pick this one.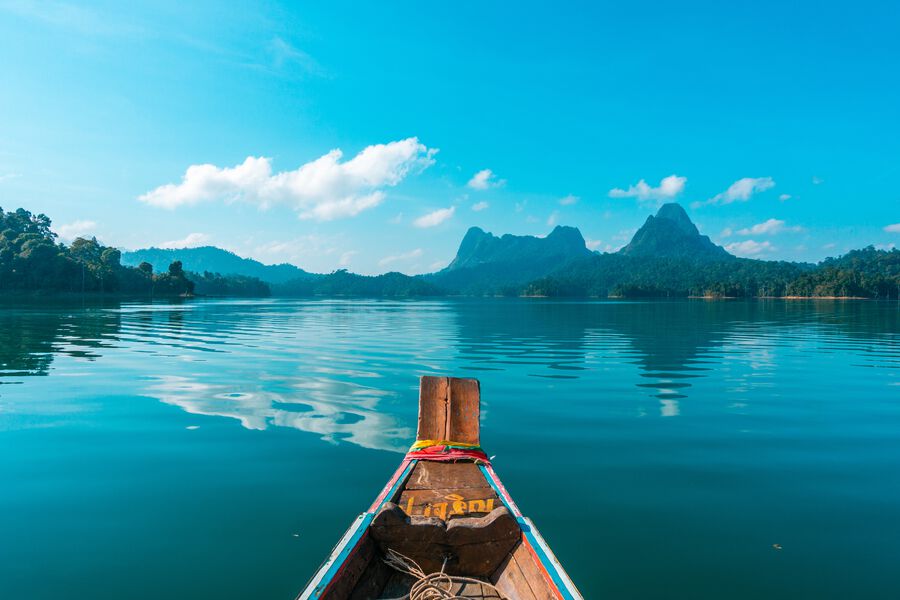 Looking for a complete travel guide to Khao Sok National Park? Check out:A Complete Backpacking Guide To Khao Sok National Park
24. The Church in the Clouds
If you made it all the way this far, you probably recognized a certain theme here in my photography: that I love taking landscape photos. Although I aspire to become more documentary-style in my photography approach, I often find myself before beautiful landscapes more than interesting people, and it was the case here for this photo as well.
This photo was taken while my friends and I were hiking in the mountains of Kazbegi, Georgia to get to the Gergeti Trinity Church located up in the mountains.
The weather was not on our side that day, as it was foggy and cloudy when we started hiking, and I had already lost hope of having good visibility up at the church. However, to my surprise, when I arrived, the fog disappeared and the sky opened up just like that, revealing what I saw at the top.
The green grass surrounding the hills around the beautiful Georgian Orthodox church, as well as the clouds rolling in from behind, made this photo one of my favorite landscape photos I have ever taken. It was taken with only a small compact camera, the RX100. I am talking about how camera gear is not as important as how you position yourself in front of interesting things.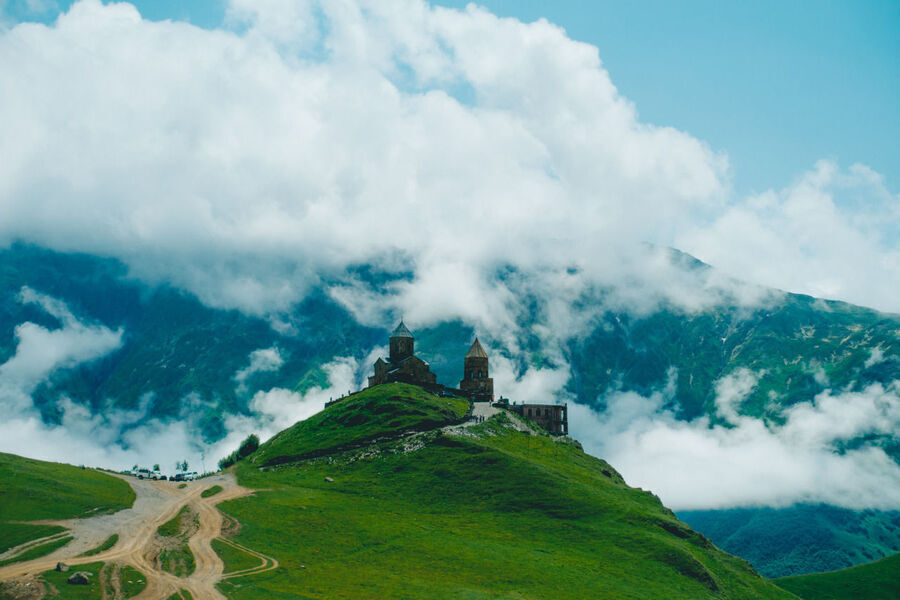 Looking for a complete hiking guide to Kazbegi, Georgia? Check out:The Ultimate Hiking And Biking Guide To Kazbegi
25. A View To Die For
Last but not least, this is one of the first travel photos I am proud of, even though my friend took it for me. It was at one of the ledges off a cliff at the Three Rondavels Viewpoint where it overlooks the beautiful Blyde River Canyon, one of the most stunning sights to see in South Africa.
It was after we had done a 4-day safari tour in Kruger National Park in South Africa, and as our group was starting to warm up to each other, we had to depart at the end of that day. We decided to take a group photo here to immortalize our time going on a safari together.
I hopped onto this dangerous-looking rock to make sure that it is steady enough, and asked my Swiss friend Stephanie and Katarina to take the photo. We, in turn, switched to do the same for each other. It was a fun way to say goodbye to each other, and this photo immortalized that moment for me.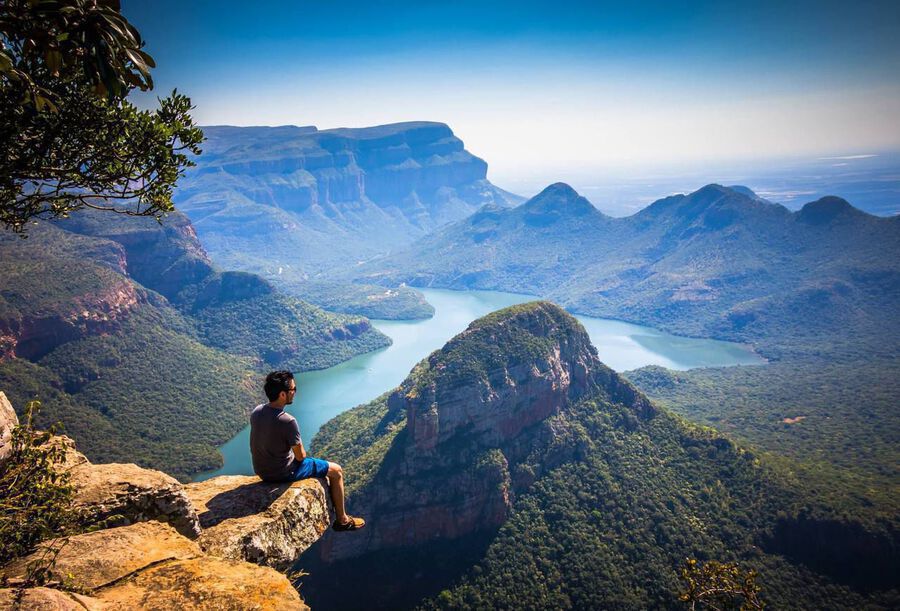 Looking for a complete travel guide to Blyde River Canyon? Check out:Visiting Blyde River Canyon, South Africa
That is why I do what I do. The reason why I travel the world in the first place is simply to create good memories for myself and be good memories for others, and the reason why I took up photography and filmmaking is to preserve these valuable memories.
I may not be a professional photographer, but I don't have to be one to capture and immortalize a moment that is valuable to me and others who were involved. That is why I continue to take photos, create travel videos, and ultimately, travel and write.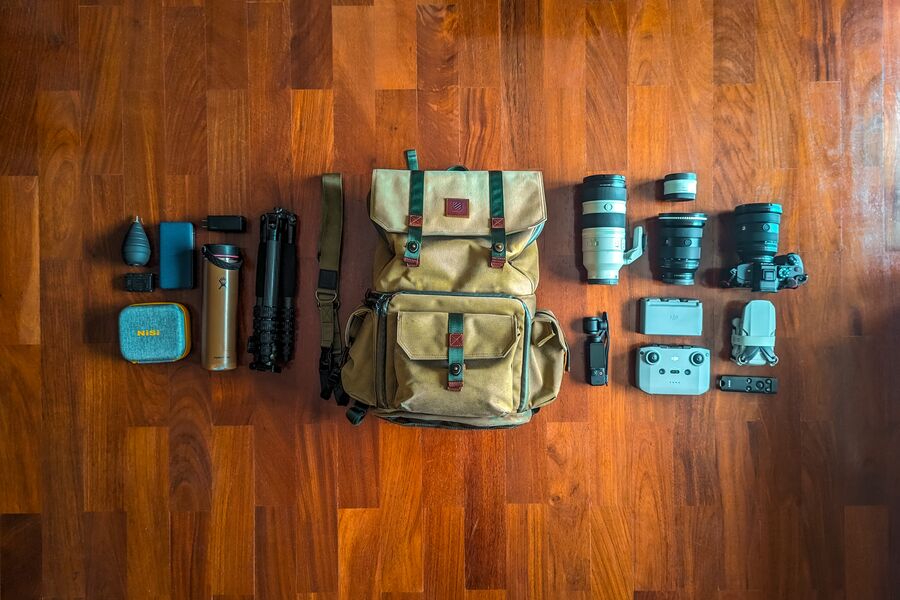 Want to know what I carry in my camera bag?What's In My Camera Bag in 2023?
Further Reading for Inspiration
Looking for more articles to help inspire you to travel more? Here are a collection of articles you might like:
Hiking to the Everest Base Camp is one of the most memorable epic moments of my life. Here's a long-read piece about my experiences hiking the Everest Base Camp: On My Way To Everest Base Camp.
Ever wondered what it is like to travel the world on a third-world passport? Check out: Traveling The World On A Third World Passport.
Here's why I always celebrate turning a year older with a hike: Climbing Kilimanjaro On My 33rd Birthday.
Are you currently planning a trip around the world and looking for cheap countries to visit? Here are the 10 Cheapest Countries to Visit in the World.
Traveling in Europe can be cheap, really cheap. These are the 12 Cheap European Countries to Visit.
Looking for the most beautiful travel blogs to follow? Here are the 23 Most Beautiful Travel Blogs to Follow.
For adventurers and backpackers out there, here are the 10 Best Adventure and Backpacking Blogs You Should Follow.
I truly believe we need more Asian representatives in the English-speaking travel blogging industry, especially for blogs about Asia. Here are the Top 10 Kick-Ass Asian Travel Bloggers To Follow.
Did you know that you can travel without leaving your couch? Here are the 8 great travel books you should read.
For the best travel videos to inspire you to travel even further, here are the 20 Most Creative Travel Videos of All Time.
If you are looking for travel vloggers to follow on YouTube that aren't cringeworthy, check out: 10 Best Travel Vloggers to Follow On YouTube.
The best way to improve your photography skills is to learn from the best. Here are the 10 Best Photography YouTube Channels to Follow.
Ever wondered what it's like to be a travel blogger during COVID-19? Check out: Being A Travel Blogger During COVID-19 – What Is It Like?
Stuck at home and not sure what to do? Here are the 10 Best Things to Do When You Are Bored in Lockdown.
Wondering where you should go after COVID? Here are the 8 Best Places to Visit After COVID-19.
Can't travel internationally for the time being? How about traveling in your own country? Here are the 7 Reasons Why You Should Travel in Your Own Country.
To find the most inspirational travel quotes and captions to go with your photos on your Instagram, check out 20 Best Travel Quotes and Captions for Instagram.
We often hear bad stories about locals from travelers, but what about the other way around? Here are some of the Notorious Stories Of Terrible Backpackers.
If you lost your bag while you travel, here is how to deal with the situation: My Bag Was Stolen in Germany.
Have you ever felt that you do not belong in a place you were born in? Read this: Where Is Home? – My Quest In Search Of Where I Belong.
People often preach about how important it is to live in the moment, but sometimes, that may not be such a good idea. Here is The Problem With Living In The Moment.
Solo traveling is not for everyone, and even though I love it to death, it is not always flowers and sunshine for solo travelers. Here are the 10 Things I Hate Most When Traveling Solo.
Travel friends come and go, but that may not be such a bad thing. Here is why you should embrace your travel friends: A Life Of Brief Encounters.
Hiking is life. Here's why: One Year Of Incredible Discomfort – 10 Things I've Learned From Climbing Mountains.
Here's why having no plan is the best plan: Magical Things Happen When You Have Nothing To Do – The Art of Doing Nothing.
Is life getting you down? Here's why you can't always blame life for everything: Life Doesn't Suck. We Just Suck At Living It.
Want to know why I chose to travel alone? Read this: We Travel Alone, NOT To Be Alone.
For a meaningful solo trip, you need to share it with someone. Here is why Happiness Is Only Real When Shared.
Traveling is no longer for the rich. Here is why: "People Think I'm Rich".
The Himalayan Mountain is one hell of a teacher. Here are the 7 Life Lessons The Himalayas Taught Me.
Want to travel alone but scared that you might get bored out of your mind? Here is How To Enjoy Yourself And Have Fun While Traveling Alone.
Want to start traveling solo as well? Here is What It's Like to Travel Alone.
Here is a simple story on how I started traveling: F*ck It, I'll Do This Alone.
For more inspiring articles like this, visit my Inspiration page.
Conclusion: So above is the 25 Beautiful Travel Photos From Around The WorldPhotos from 7 Years of Traveling And The Interesting Stories Behind Them article. Hopefully with this article you can help you in life, always follow and read our good articles on the website: natuts.com